I have had a lot of requests on how to download, open and use the partlists to my instructions, so I will try to explain how here.

All the partlists have been created with a program called Brickstock that can be downloaded for free from brickstock.patrickbrans.
You can download the program from here:
http://brickstock.patrickbrans.com

To get the most out of Brickstock it is a good idea to update the database before working with the partlists.
The can be done here: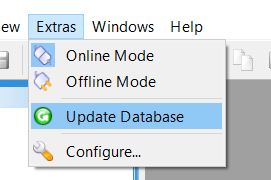 Brickstock
To download the partlist from my homepage right click on the link and (in Firefox) click "Save link as".
In Internet Explorer right click and on the link and click "Save destination as".
This will open a file explorer where you can choose a destination to save the .bsx file.
If you have installed Brickstock, Windows will now be able to recocnize the .bsx file and when you double click it the file will open into Brickstock.

Brickstock
From here you can export the part list to
Bricklink.com
Instead of opening the file i Brickstock, you can import it directly into bricklink.
Go to
Bricklink.com
Hold the mouse over the "want" Icon in the upper left and a menu appears. Click "upload"

Bricklink Upload
In the left part of the page you can now drag and drop the .bsx file and it will upload to bricklink.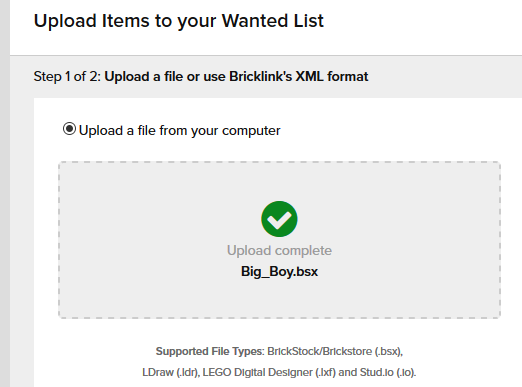 Drag and drop
Remember to choose your wanted list.

Choose wanted list
Now click the "Verify Item" button in the lower right corner.

Verify Items
After Bricklink is finished verifying the items in the list and no errors in the list is found, it will take you to a page where you can check all the items.
When you get to the buttom of the page click "Add to wanted list" and the parts will be added to your list.

Add to Wanted List
As it takes a lot of time for me to make these instructions, please make a donation to my paypal account to insure the further development of instructions on this site.


All instructions are created with LDCad, LPub3D and the LDraw Library of Parts.
.
.
.